Cadillac Club: 1959 Cadillac : 1959 Cadillac Restoration : 1959 Cadillac Restoration page 8
Paul Oakley 1959 Cadillac Sedan Deville Restoration - Tasmania Australia Page Eight
Editors note: This is the eight page on Paul's Journey of restoring his 1959 Cadillac Sedan Deville. If you missed any parts feel free to go back to page 1 of Paul's 1959 Cadillac restoration.
Hopefully this will be the last of the really filthy work done. We need to strip the chassis and send it off to be sand blasted and repainted.
More of the same. There is a lot to be removed and a good deal of it is seized up from rust and neglect. It is pretty apparent though this car is reasonably complete she has had little or no maintenance for many years.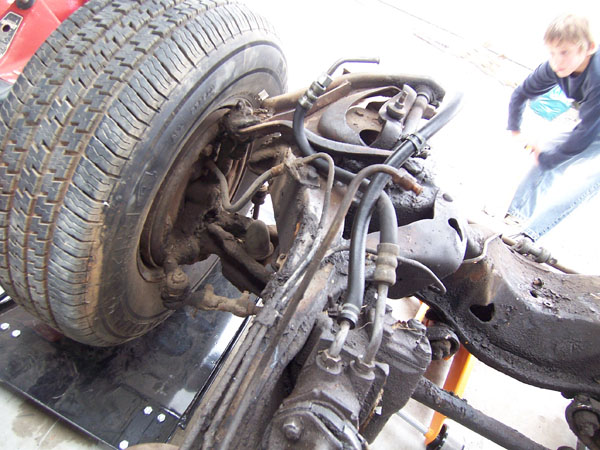 Thereís lots to be removed when you have a look at it. All the steering, suspension, exhaust system, brakes plus feed lines as well as the whole rear end. Its slow going and quite easy to walk away from. The front suspension arms both upper and lower were difficult to remove as well, pretty much all of the ball joints were dry to the point of needing to be cut away with a grinder.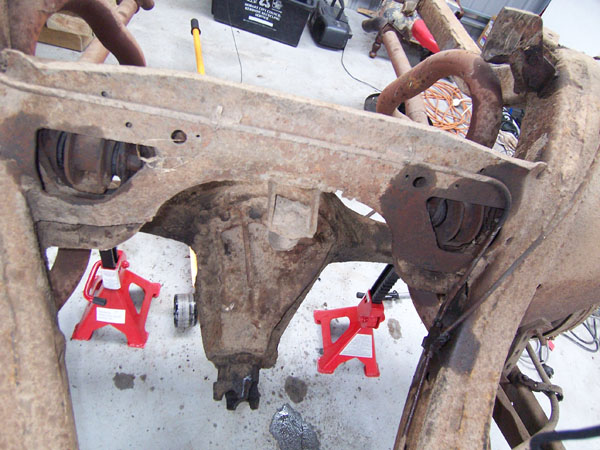 The rear end is a nightmare to remove with all the bolts in the control arms seized up as well as contending with 50 years of dirt. We have had to cut off bolts with grinders and even use an oxy acetylene kit in places. Surprisingly a lot of the rubber body to chassis bushings are in quite good condition as are a few of the suspension bumpers Ė we will replace them anyway.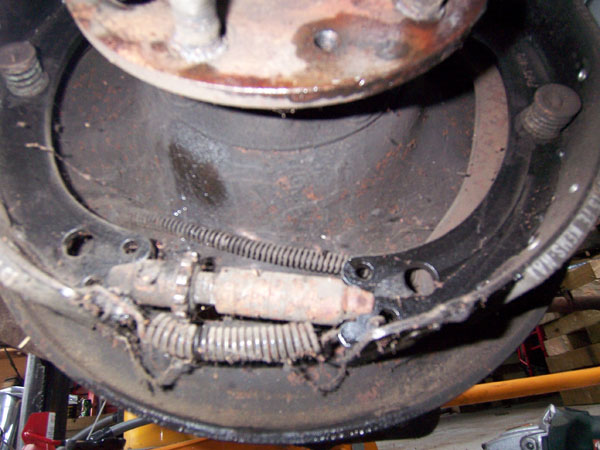 Here is the next surprise. After already saying she had been given no routine maintenance I removed the brake drums to find nearly new brake shoes and other components, regardless I am still replacing the lot with a major brake overhaul kit from KANTER www.kanter.com the master cylinder is also being replaced with a reconditioned unit whereas the brake booster seems to be great.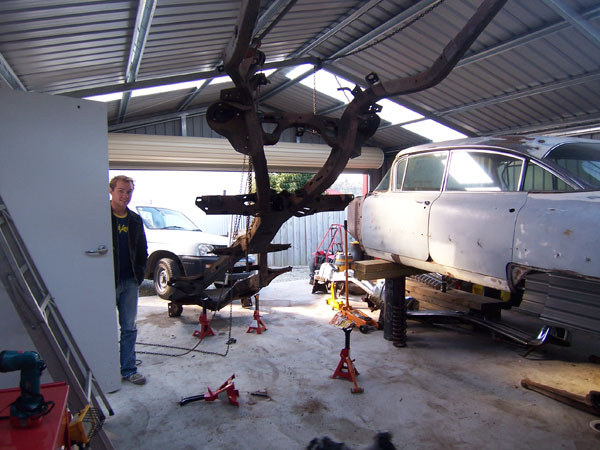 Well I would be telling lies if I said that this part was funÖ.It was a long, filthy and thankless task of skinned knuckles and frustration. All that said we are ready to ship it off to the blaster to move onto the next stage. Thatís Ryan here to drive the utility under it for us although he is looking a little frightened. I am not too certain what the weight of the chassis is but it has the roof creaking a little.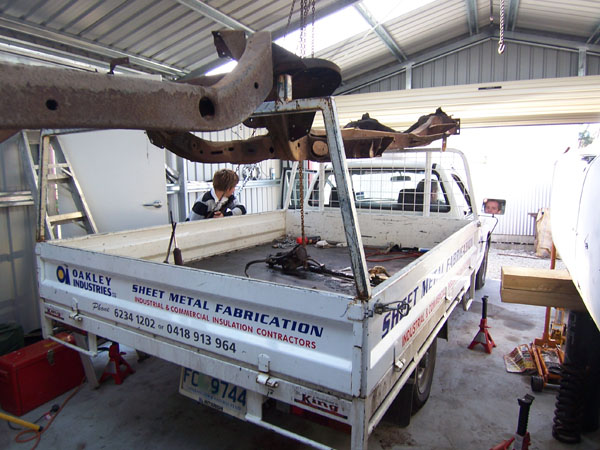 Thatís the chassis loaded up and ready to transport to the blaster. Itís a bit of a tight squeeze with the door but it fits on the little truck nicely.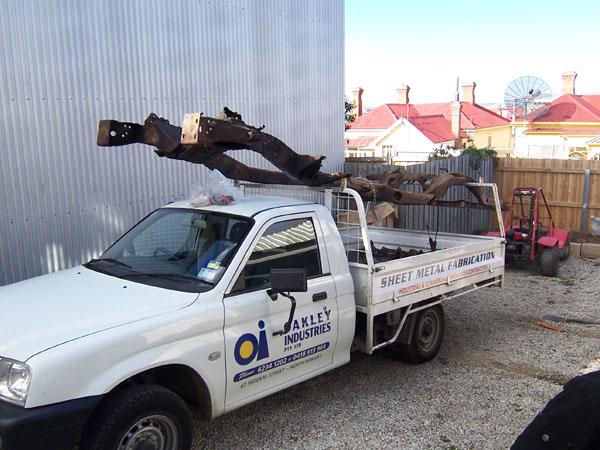 Thatís one big chassis! Now on to page nine of Paul's 1959 Cadillac Restoration.
If you have missed any part of Paul's Cadillac Restoration I suggest going back to Page 1. Cadillac restoration page 2 - Cadillac restoration page 3 - Restoration page 4 - Restoration Page 5 - Restoration page 6