Cadillac Club: 1959 Cadillac : 1959 Cadillac Restoration : 1959 Cadillac Restoration page 4
Paul Oakley 1959 Cadillac Sedan Deville Restoration - Tasmania Australia Page Four
Editors note: This is the fourth page on Paul's Journey of restoring a 1959 Cadillac Sedan Deville. If you missed any parts feel free to go back to page 1 of Paul's 1959 restoration.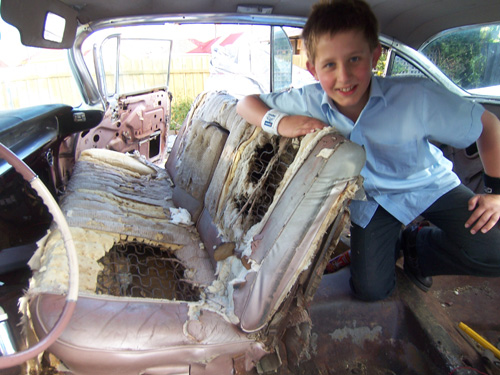 As I might have mentioned previously: We need to take a step backwards here to before the shed was finished and we were tinkering around with the car. Here is a shot of Blair after the rear seat was pulled out and just prior to the front one as well as the rest of the interior being removed. Believe it or not the front seat is in a whole lot better condition than the rear!
Same again really. Thankfully all the spiders have now been dispatched and we can clean out the rest of the interior. The headliner was pretty sad as well and once removed the steel beneath was found to be covered in light surface rust.
We are taking both the seats to a local upholsterer who will strip the remaining fabric for patterns where possible and I will take the bare bases and springs back to blast them off for repainting. As well as this I need to check the condition of the electrics and cables in the front seat, it is a 6 way electric bench. Blair seems to have the sun in his eyes in this shot!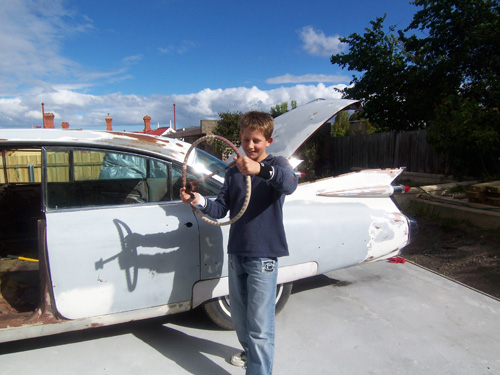 Pulling this out as a temporary measure as we will obviously need it again. The steering wheel is cracked and we are sending it to a Brisbane based Company called Pearl craft. They do great work and will resurface it as good as new.
Just a dusty rusty mess left in here now. We will now rip out the rest. Note the broken horn ring Ė big $$ to replace. Whilst at a glance the floors look solid it is not the case. Once we started looking it was evident that both front pans needed replacing as well as random smaller spots throughout the whole floor. (luckily my trade is in sheet metal)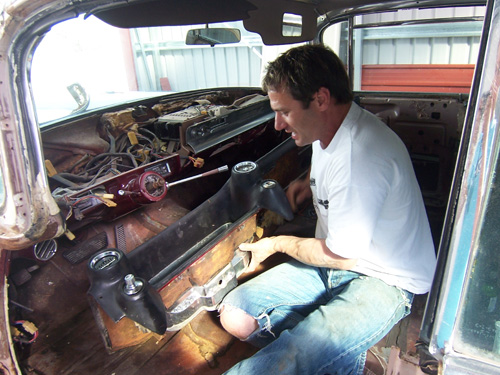 Here we are ripping out that massive dash pad. It is cracked badly and I am also shipping it off to Brisbane to be redone by a company called dashboard restorations. I should say at this point that although I want the interior to represent that of a 59 Cadillac I am not going to stick with the original trim colours.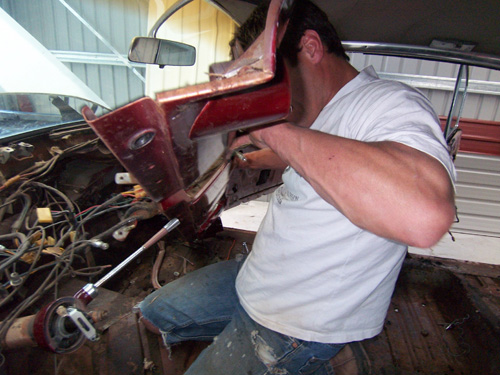 Pulling out all the steel components of the dash that have been painted a sort of maroon colour by the previous owner. I am going to send it off for stripping and powder coating. The Chrome bits will also need to be re-plated in most cases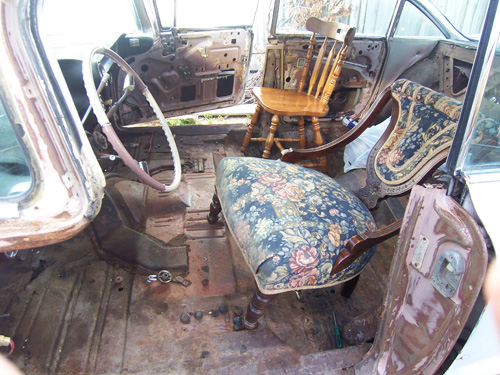 Pretty certain that itís not every day that you see a car fitted with an antique nursing chair as a driverís side seat. Blair has grabbed a wooden one to act as co pilot.
Now we get into removing more parts as the engine gets removed on Page 5 of Paul's 1959 Cadillac restoration.
If you have missed any part of Paul's Cadillac Restoration I suggest going back to Page 1. Cadillac restoration page 2 or Cadillac restoration page 3