Cadillac Club: 1959 Cadillac : 1959 Cadillac Restoration : 1959 Cadillac Restoration page 9
Paul Oakley 1959 Cadillac Sedan Deville Restoration - Tasmania Australia Page Nine
Editors note: This is the eight page on Paul's Journey of restoring his 1959 Cadillac Sedan Deville. If you missed any parts feel free to go back to page 1 of Paul's 1959 Cadillac restoration.
Well a bit of time has passed but we have the chassis back as well as other bits and pieces including the rear axle, differential plus lots of engine bay sheet metal. The whole chassis has been blasted back to bare metal and has been repainted in two pack black epoxy, it looks better than new and the coating is as tough as nails! Here we have the sheet metal components from the engine bay and front end. They have had similar treatment but I have had them blasted and powder coated instead of painted conventionally.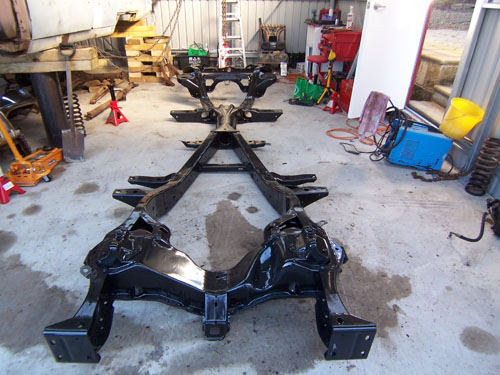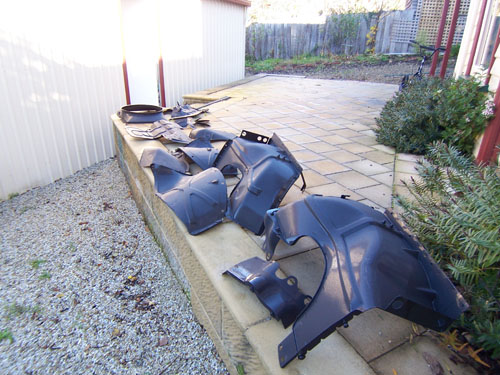 This is where the fun bits start and we finally get to start going back the other way. It is our intent to get it back to a complete rolling chassis prior to starting the bodywork.

Here we are refitting the rear axle. It has also had the blast and repaint treatment and now I need to replace all the bushings in both control arms as well as the control yoke that hinges the differential housing to the chassis. Once again I have acquired all the parts from KANTER in the USA. We are replacing every bush regardless of condition.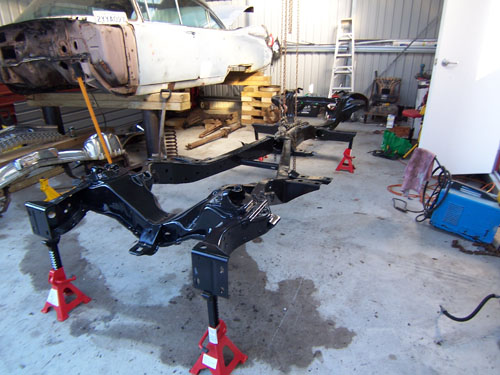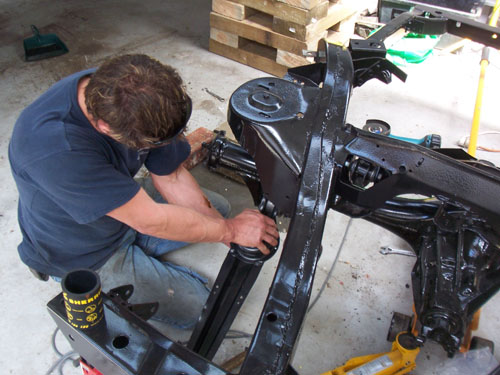 This image shows the complete rear axle back in position. Note the upper yoke and the way it hinges off the chassis and also pivots off the top of the differential housing by way of a ball joint (also from KANTER) The two control arms are also clearly visible with the four new bushings pressed back into them. The springs are the original ones blasted and repainted once they were measured for conformity and reset. The rear axles were installed as were the brake backing plates (backing plates were powder coated) Obviously we replaced all the seals as we went. I may have already mentioned that we have replaced all the brake components with new including the slave cylinders.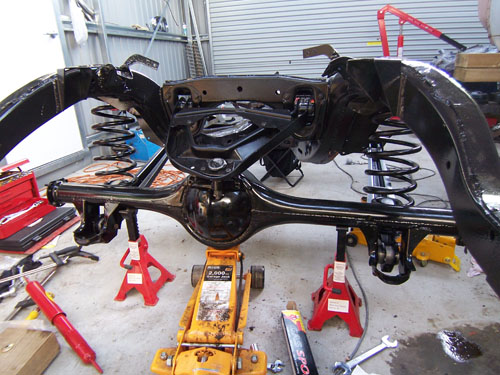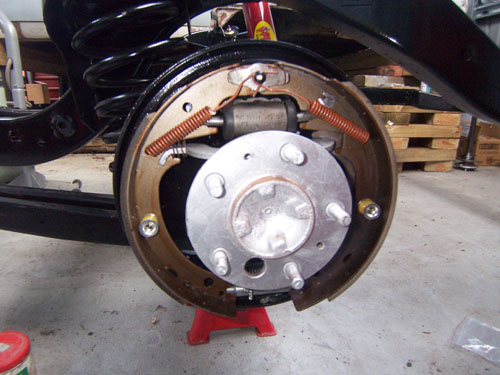 The rear end is nearly completion with all the brake lines feeding back into the slave cylinders as well as the new handbrake cables. See my new set of white wall tires in the background? J.

I threw in this photo as it shows how long we have taken so far! Testament to this is Blair with his bad Hanson like haircut (he hates this photo). We have had bit of time away from the car after I took on another project that required our immediate attention. All that aside you can see that we are back into it and ready to reinstall all the front end!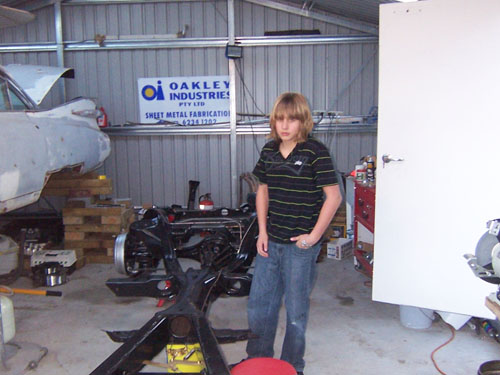 If you have missed any part of Paul's Cadillac Restoration I suggest going back to Page 1. Cadillac restoration page 2 - Cadillac restoration page 3 - Restoration page 4 - Restoration Page 5 - Restoration page 6 -