Cadillac Club: 1959 Cadillac : 1959 Cadillac Restoration
Paul Oakley 1959 Cadillac SDV restoration - Tasmania Australia
Our Journey With Paul as he Restores his 1959 Cadillac Sedan De ville
For those that are not familiar with Tasmania. It is the small Island state off the south east coast of the Australian mainland. Born in 1964 and raised in the states Capital city of Hobart and not unlike most kids I was a fan of both Australian and American television. Batman was a definite favorite of mine as was the amazing cars and boats he got to drive around in. whilst it was a lot of years later that I was to discover that the actual Batmobile was based on a Lincoln Futura show car and not a Caddy - the die was cast for me the first time I ever laid eyes on a 1959 Cadillac in a magazine. The magazine showed the stately and futuristic lines of a 59 Cadillac Sedan outside a flash NYC hotel - I was in love and the image of that car was indelibly branded upon my perception of what a cool and elegant car should look like!

Years past for me and by the time I had well and truly left that little boy behind I had my own little boy (Blair) that was also turned on by cars. Whilst my love of the 59 Cadillac and American autos of that era had always stayed with me I had done little to get this bug out of my system. Though American cars are not unheard of in this country they are problematic in being left hand drive, it is only in recent years that Australian authorities have acknowledged that these aging cars may be left as they were built and not converted (generally badly) to a right hand drive car.

Opportunity knocked for Blair and I in 2008 when looking through a magazine I spotted a 59 Sedan De Ville amongst other cars imported by a dealer in South Australia. The car looked pretty sad and obviously needed a bit of love. Just how much love became evident after we boarded a plane to Adelaide, rented a car and drove north to view this old girl and this is where we started!
Here she is as we met her. Reasonably complete except for bits of trim and sporting incorrect rims and wheel covers.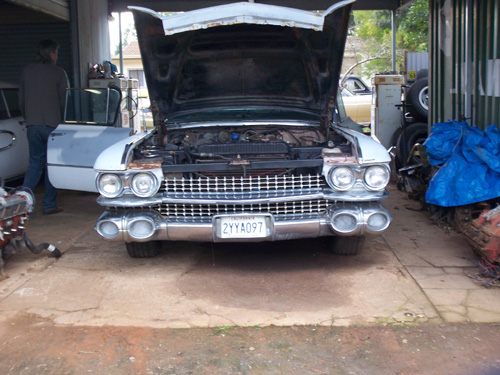 Imported from California with a few other cars we donít really know too much about who owned her previously. It looks as though someone had made a half hearted effort at a partial restoration many years before. The photos donít actually portray what a mess she really is. I have since contacted GMH and have details of the day she rolled off the line (April 2nd 1959) and city to where she was delivered to as well. (Montana)

Although not a priority at this stage I would love to know more about her life between then and now. If you think you can help out send Paul an email poakley@cbgsystems.com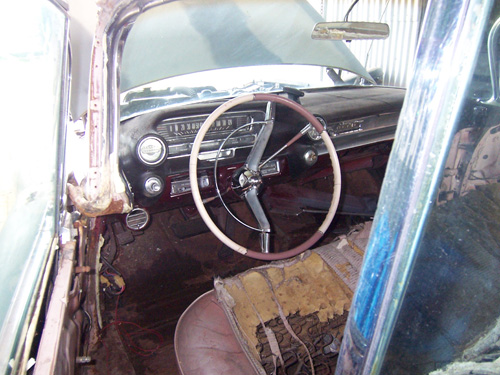 No floor coverings , cracked dash and seats that are through to the springs she is a real mess inside. Two of the windows are jammed in the lowered position and the interior has been subjected to rain water for a long period, the rusted out floor pans are testament to this. She has been sitting in this position for some months as well and has also become home to a colony of poisonous red back spiders!
Though the paint is peeling as well as the primer patched up bits, the features that make these cars so unique remain. The chrome is pitted and all in need of replating and the much sort after trunk trim is a twisted wreck in the back. Itís clearly evident that this is going to be a costly and drawn out exercise should we commit.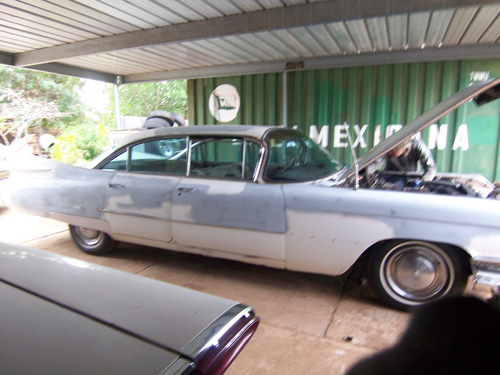 Thatís her side on. There has been some repairs done that will clearly need to be started over due to the amateur nature of them. Although this side has a few issues the other side is worse and will need a lot of work. As I mentioned the wheel covers are off a later model car but the 59 ones were included. What I didnít realize at the time was that the rims were not suited to the 59 and I needed to import 5 new ones from the USA.

She is missing trims from all over but most seem to be there and stuffed in the trunk in various states of disrepair.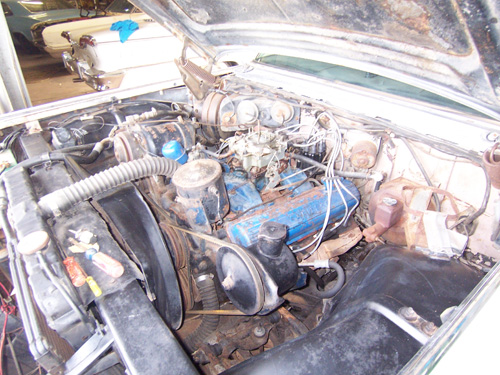 Thatís the original engine and all the numbers match up. It is not seized up but certainly showed no signs of firing although it seems to be complete. Itís a 390 V8 with factory fitted air conditioning that also seems to have all the necessary components Ė it has been drained and disconnected though. The brakes are power assisted and the master cylinder is rusty and empty and has a spider living in there as well!
See page two on this journey from Paul as he restores a 1959 Cadillac.