Cadillac Club: 1959 Cadillac : 1959 Cadillac Restoration : 1959 Cadillac Restoration page 3
Paul Oakley 1959 Cadillac Sedan Deville Restoration - Tasmania Australia Page Three
Editors note: This is the third page on Paul's Journey of restoring a 1959 Cadillac Sedan Deville. If you missed any parts feel free to go back to page 1 of Paul's 1959 restoration.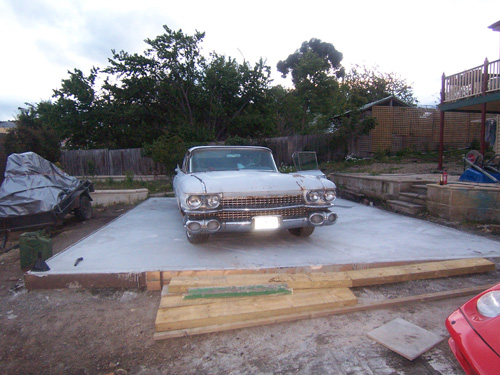 Removing my back garden and replacing it with a couple of truckloads of concrete earned me lots of grief from my partner as well as mixed feelings from neighbors however when you commit to somethingÖ.. ya got to go all the way! She is going to fit in there very nicely.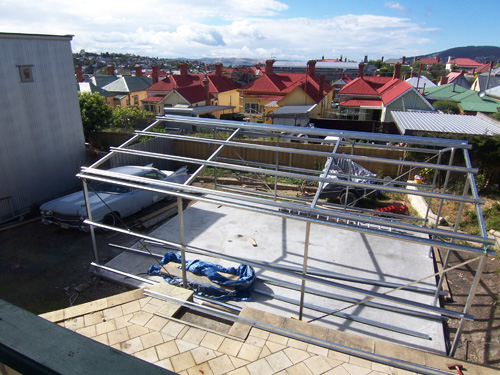 Here is the frame going up.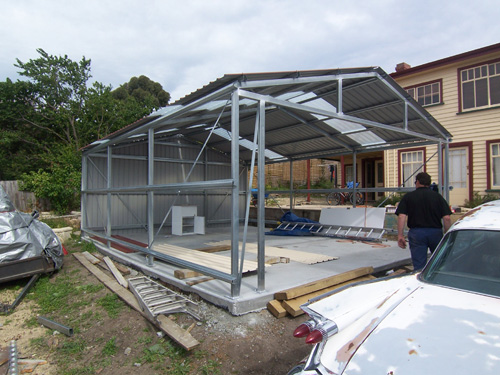 Coming along well. My business is in metal fabrication so I have been able to call upon guys from work to fabricate the shed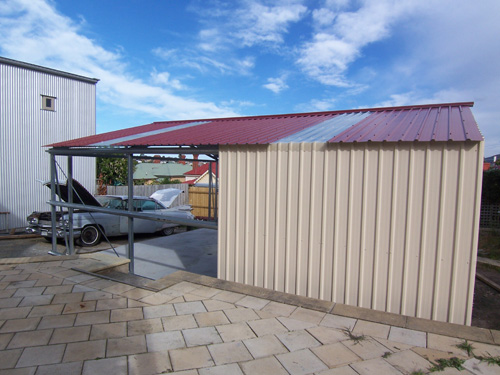 Well at least itís going to be the same colour as the house. The car is a real distraction to getting the shed built and we have already stripped out most of the interior as well as hitting her with a few insecticide bombs to kill off all the creepy crawlies!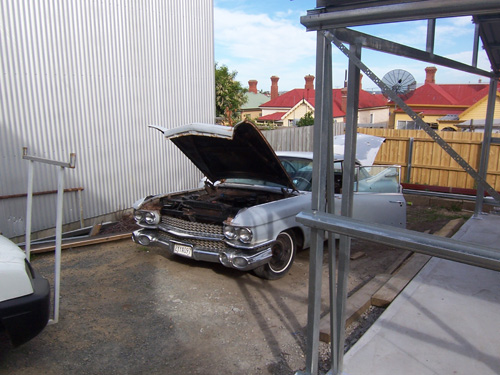 Blair and I spent a few hours on the Caddy engine replacing filters and fuel as well as fiddling about with the timing, We managed to get her running by tipping fuel straight into the carburetor, there was an enormous back fire and smoke went everywhere as she burst into life! A short while later we were able to get her idling well enough to drive her back and forth to position her where we wanted. I freed up the seized brakes but stopping still remains to be a problem so we are not going up the driveway!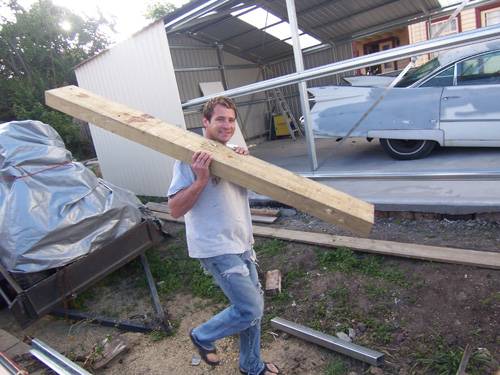 More of the same. Just backing her up into the shed that will be her home for the next few years!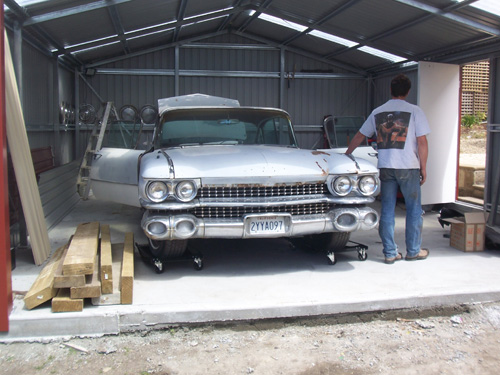 Well thatís her into the shed and the last time we will hear her roar for quite some time. I have placed her on wheel dollyís so we can push her about the shed when needed. All we need to do now is to install a roller door to the shed and we are ready to start giving the old girl a new life!
Now on to page four of Paul's 1959 Cadillac restoration.
If you have missed any part of Paul's Cadillac Restoration I suggest going back to Page 1.