Cadillac Club: 1959 Cadillac : 1959 Cadillac Restoration : 1959 Cadillac Restoration page 2
Paul Oakley 1959 Cadillac Sedan Deville Restoration - Tasmania Australia Page Two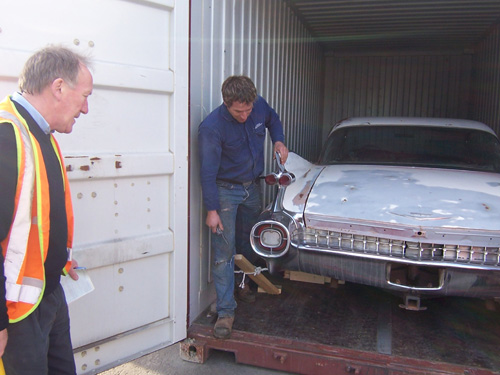 Well I suppose it was no secret that we were always going to take the plunge and part with what seemed to be a reasonably fair amount of cash. Here she is arriving in Hobart in a shipping container.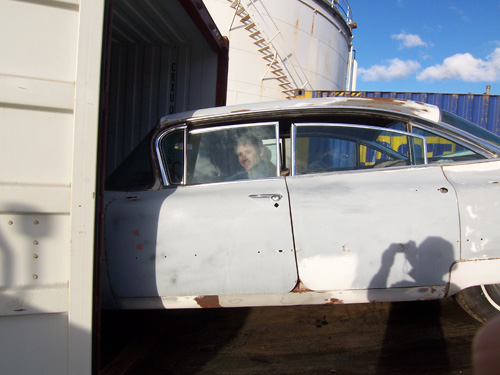 Thatís a pretty happy fella smiling away in there amongst the dirt and spiders. We have hired a tilt tray truck to get her back home. One of the rear brakes is jammed on so we are just dragging her up. The driverís side proved to have had some heavy damage at some point as you can see by the bad repairs along the sill.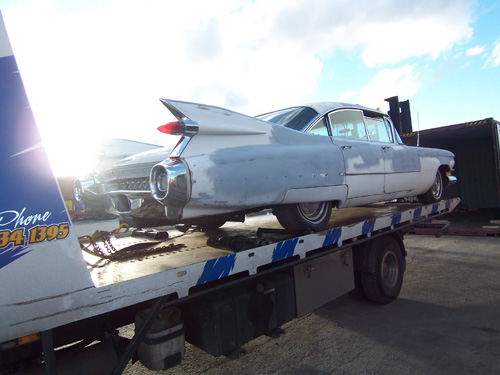 Ready to head home! Dented and multi colored and not quite dressed properly but she still looks like a classy girl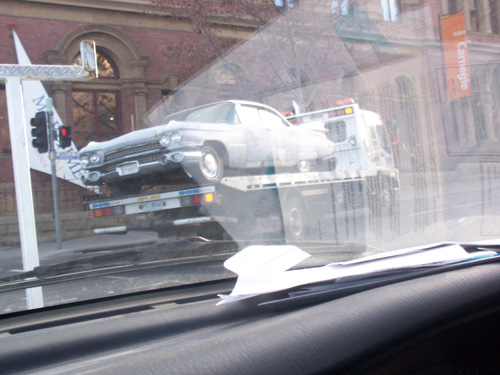 The truck driver loved it and was amazed at the sheer size of the car. I see him still from time to time and he always asks after her. These cars are not a common sight on the streets of Hobart!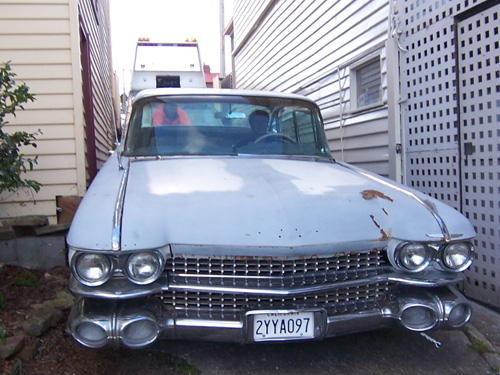 Finally getting her home. She is nearly too wide for the driveway! You can notice some damage on the driverís side of the hood as well, that proved later to be a pain in the butt as it seems to have twisted and distorted the whole panel nearly beyond repair.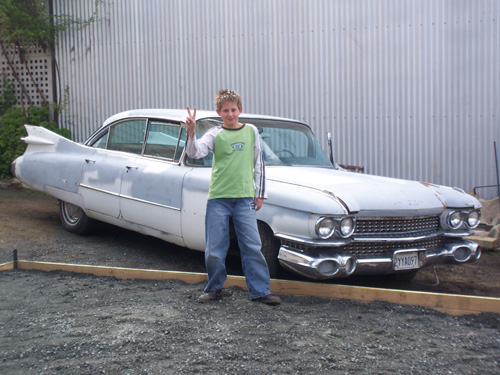 Thatís my boy! The car has actually been sitting where it rolled off the truck now for a week or so. We have a situation where we have a massive car and restoration project to commence but nowhere to do the work! Itís typical of me to rush in and do things in reverse. We need a shed! watch me build it on page 3 of my 1959 Cadillac restoration.
If you have missed any part of Paul's Cadillac Restoration I suggest going back to Page 1.