Fred from Pennsylvania sent in a few pictures of his 1988 Cadillac STS. Here is some of the info Fred sent me.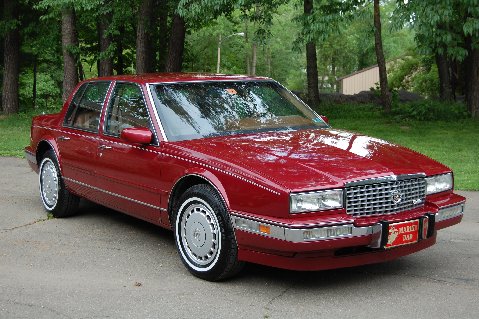 This STS is interesting in that it was one of the first STS units built. I have verified the vehicle and it is a pre-production prototype of the 1989 STS consumer vehicles. The car was custom built in May of 88 and shipped to a dealer in NH. The 1988 STS wasn't shown to the public until June of 88 at the Detroit Grand Prix. Production started in June and 1499 were built.This particular car has a sticker on the door identifying it as having been custom built be the C&C group (Cars & Concepts) for the Cadillac division. Here is the picture if you care to use it, and I have included a picture of the C&C sticker.
You can see more pictures and information on our 1988 Cadillac STS concept page. Thanks Fred for sending it in I really appreciate it as I am sure our readers will also.
I got an email asking for help with their 94 if anyone has any ideas send me an email or leave a comment. Here is the email.
I have a 94 Concours with the Northstar engine that is overheating. Have replaced the water pump (this was the original problem when it started leaking around the o-ring seal, radiator, hoses, etc. The car sat for 5 years but now I have it running, but it still overheats. I suspect sediment in the heads, and am wondering if anyone knows of a cleaner that may remove the scale without having to result to pulling the heads to be 'boiled out'. There is no evidence of antifreeze in the oil or in the cylinders, checked by pulling the plugs,
Suggestions? Many thanks,
Ed