A few months back I received an email from a guy named Earle who was going to a pro car show down in New Jersey. Since it was only a few hours away I figured I would just on a train and head on down but I guess I had the dates wrong as the show came and went without me being there.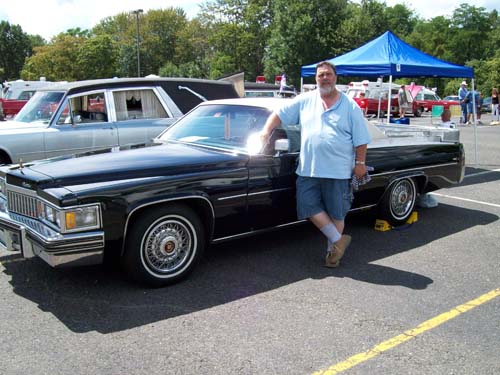 I didn't realize I missed the show until I got an email from Earle with pictures included. I was so bummed that I missed it,but thanks to Earle he made sure he took some pictures for us.
That is Earle standing next to his fine looking Cadillac. I really owe Earle for sending in all the pictures of his ride which can be seen on Earles page by clicking on the picture.
It is not often that we get such detailed pictures and a great story on how he became the owner. Thanks again Earle.
Now for the new Cadillac fans I have to say I am quite excited over the new Cadillac concept car he Converj. Although I am not a fan of the name the look and feel of the car is amazing. It has sleek lines and looks really fast although that is not what it is meant to be.  It is an electric car that is similiar to what Chevy has planned with the Chevy Volt except this one is in a much sleeker body style. I am hoping it moves from being a concept car to an actual production car. You can see more on Cadillac Converj.
As we are really in the need to break away from our oil dependancy in the USA this car could help us in a big way. Although the 40 mile range is not that big of a deal, think about the amount of times you just drive to the store and back. This could save a lot of gas that you purchase. Little step yes but a much needed one.